Fitness Gym Crossfit LPB9
If you or your client needs an ab-smashing, inspirational fitness template, The Body Factory is the answer. Easily customizable for a Yoga Studio, Gym, Crossfit Box, or any other physically demanding website.
---
Save When Hosting With WSS Media
Description
With endless options to choose from, get inspired and find what would best suit your products or services.
This design is 100% cusomisable if required at a later date.
The cost of this web page as seen below built to your specifications.
$181 when hosted with WSS Media
This page design is constructed using the following components:-
8 Rows
17 Blocks
22 Elements
This design sits between your chosen header and footer.
- The Body Factory -


THE BEST GYM IN NYC
- POWER -
Programs
You won't find any typical fitness programs here at TBF. We are known for making versatile programs that challenge any type of hardcore athletes. We do have "normal" training facilities, but our Special Events are definitely the most popular programs we have. 
- Skilled -
Instructors
We have some of the world's most interesting instructors here at TBF. Professionals from everywhere pursue a career at our gym because it gives them a challenge they can't get anywhere else. Every month we pick the Instructor of the month based on certain tough criteria.
- Awesome -
Facilities
From the outside, our building looks like a condemned factory. But once inside, you will instantly see how we have used this destroyed interior to our advantage. Bricks, wires and wood play a huge roll in our special training equipment. Hard training requires hard materials.
- Upcoming -
Special Events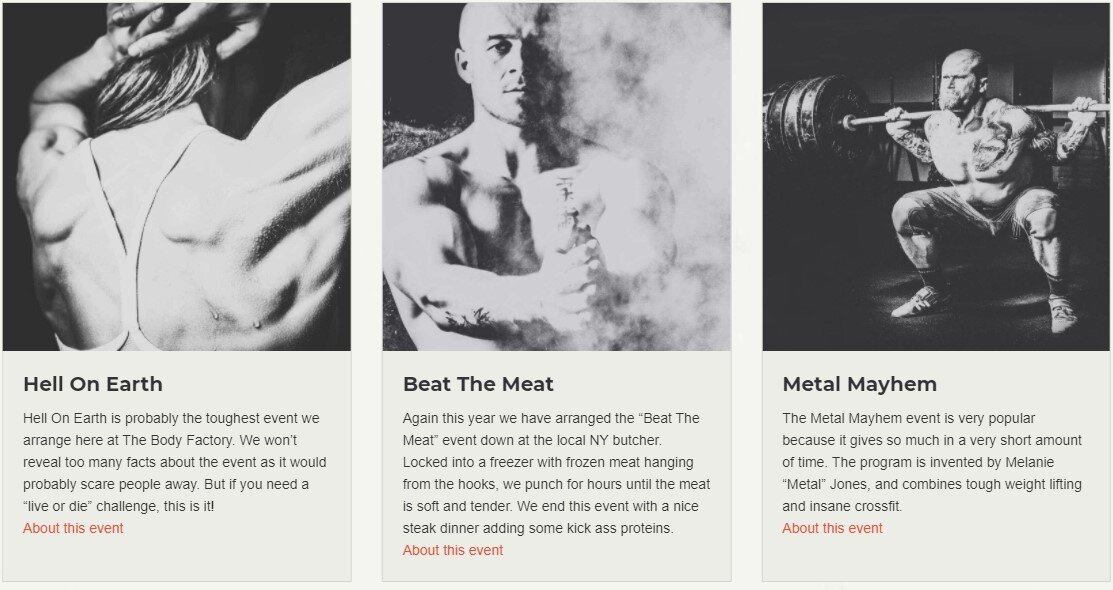 Monthly Plan
Unlimited club access

Unlimited training

Access to tanning & spa area

Discount on selected equipment

Free The Body Factory shirt
Yearly Plan
Unlimited club access

Unlimited training

Unlimited access to tanning & spa area

Discount on selected equipment and drinks

Free The Body Factory shirt & bag
VIP Plan
Unlimited club access

Unlimited VIP area access

Unlimited personal training

Unlimited access to VIP wellness area

Personal locker room
- Instructor of the month -
Melanie Metal
Melanie "Metal" Jones has been with The Body Factory for 6 months and we are quite proud of her. She makes spinning and CrossFit programs that even the most die hard athletes will choke on. She has earned her nickname, Metal, due to the taste people have in their mouth after training just 10 minutes with her.
- Opening -
Hours
Monday: 4:30am - 11:00pm
Tuesday: 4:30am - 11:00pm
Wednesday: 4:30am - 11:00pm
Thursday: 4:30am - 11:30pm
Friday: 5:30am - 12:00pm
Saturday: 5:30am - 12:00pm
Sunday: 7:00am - 10:00pm
- Company -
Address
The Body Factory
4863 Pretty View Lane
New York, NY 10001
P.O. Box 789232
info@thebodyfactory.gym
Tel: 707-946-7464
Fax: 707-946-7465