BEAUTIFUL WEBSITE DESIGN FOR EVERYONE
Website Design Process

what to expect

Website Design - Stage 1 Information Gathering
When you choose WSS Media to design your new website, you're in good hands. The field of website design is a hugely confusing area. Don't be concerned; we will take each step slowly and answer any questions along the way.
We will arrange an in-depth and informative meeting, either face to face, by phone or any video conferencing platform you find most convenient. We will ascertain every detail about your website project during this meeting, such as styling (corporate, fun, informative, etc.), colours, imagery, fonts, layout, and more.
This meeting allows us to understand everything about your business and your project vision.

Stage 2 Website Development
From everything we document at our meeting, we will then design and present you with a 3-page working example of what we believe will work best for your business. Moreover, this is much better than the old days of single dimension non-functional artwork.
You will have a secure link to your website development to discuss the design with you and make any required changes. Once the design is acceptable, we can move on to the development stage. The development stage is where we build the complete website and ask you to review it as we develop more and more.
Once we have completed the full development, we test everything in preparation for your website launch.

Stage 3 Review And Launch
When we have completed the full development for your website and are happy we have met all the design features priced for, we will launch your new website to the world. At this stage, we'll continue to monitor your website's performance for 30 days to ensure there are no faults or adverse real-life problems. If you engage WSS Media to manage your SEO, we set up your website for analytics and Google monitoring.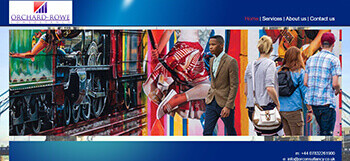 Website Design - Excite & Inspire 
At WSS Media, we know the importance of excellent website design to represent your company's individuality and appeal to your customers. We begin the process with intense research on your target market; functional designs based on thorough research is what we do.
Also, we recognise that each website design has to be unique, so we adapt our approach to suit your individual needs. Furthermore, we discuss the key areas where you want to capture relevant traffic. This information gives us a real insight into what will work best for you; we'll work with you to design a site that becomes an effective marketing and sales tool. Your website needs to stop visitors in their tracks and make them look, read, and ultimately buy or use your products and services.
First impressions are critical, make your landing page exciting and interesting to read.
Choose a design to suit the mood of your business.
Are you looking for a design for the inner pages? That's OK we have just what you need, including designs for contact pages, sign-ups, about pages, and much more.
Slide 1
For the serious traveller, Traveller Magazine is a mine of information, keeping you up-to-date with the latest trends in travel and tourism.
This great design is eye-catching for small-medium companies. Ideal for new start-ups or updating an existing but tired website.
Slide 2
This nourishing lotion is clinically proven to improve the health of dry skin in 1 day with significant improvement in 2 weeks.
This all-purpose and handy design can be adapted to suit most general businesses, large or small. It has a light and subtle colour scheme but why not adapt it into whatever you want to portray. This one is a blank canvas ready for you to create a masterpiece.
Slide 3
This nourishing lotion is clinically proven to improve the health of dry skin in 1 day with significant improvement in 2 weeks.
Agencies need to be one step ahead when promoting services, it's a representation of their skills and talents. There's no shame in taking a little shortcut with our agency design.