Sale!
Lets Meat
$289.50 "inc. GST" - "Price excluding GST $223.71. You may be GST exempt depending on your geographical location."
All restaurants want to attract patronage, with new and repeat custom always important. Imagine becoming one of the most influential establishments for folk to meet and dine. A colourful, interesting and informative website is a must-have. This design shows just what you can do, although why not be more creative, mix and match using other themes shown.
---
$43.42 Saving When Hosting With WSS Media
Description
Advertising something a little bit different is exciting and we believe this design is spot on for this business!
Toggle Item Labels ON/OFF
This page design is constructed using the following components:-
9 Rows
18 Blocks
27 Elements
This design sits between your chosen header and footer.
Block Reference #LPB3R2B1
Block Reference #LPB3R2B2
Element Reference #LPB3R2B2E1
Element Reference #LPB3R2B2E2
A Brand New Dating Concept
Element Reference #LPB3R2B2E3
Trust, intimacy, soulmates, etc. We have heard all these words before, but why is food not mentioned when we talk about a good love life? If your man can't handle a 32oz. steak or your girlfriend is just picking at the salad, a long term relationship is almost guaranteed to fail. Here at Let's Eat, you can find real people with the right appetite.
Block Reference #LPB3R5B1
Element Reference #LPB3R5B1E1
Meals
Valentine's Cheeseburger $14.45
A large homemade burger with prime meat, cheese and bacon.
---
The Steak $19.99
A large steak cut from premium meat. Served with fries or baked potato.
---
Oklahoma Wonder $22.69
A Large 16oz T-bone steak served with steak fries.
---
The Texas Terminator $39.29
A very large 32oz steak for the girl or boy who want's a challenge. Comes with various side dishes.
---
Let's Meat WTF Steak $62.50
This is basically just a medium rare cow served with a bucket of gravy.
Block Reference #LPB3R5B2
Element Reference #LPB3R5B2E1
Block Reference #LPB3R6B1
Element Reference #LPB3R6B1E1
Block Reference #LPB3R6B2
Element Reference #LPB3R6B2E1
Beverages
Let's Meat Premium Draft Beer $5.49
Our own beer specially suited for our meals.
---
Let's Meat Premium Bottle Beer $5.99
Same as our draft beer, just in a bottle.
---
Tap Water $3.45
Just some clean water from the tap.
---
Tequila Shots $2.99
Our Tequila shots are golden, warm and dangerous.
---
Let's Meat Limited Edition Strong Beer $12.50
The best beer you will ever taste - period!
Block Reference #LPB3R8B1
Element Reference #LPB3R8B1E1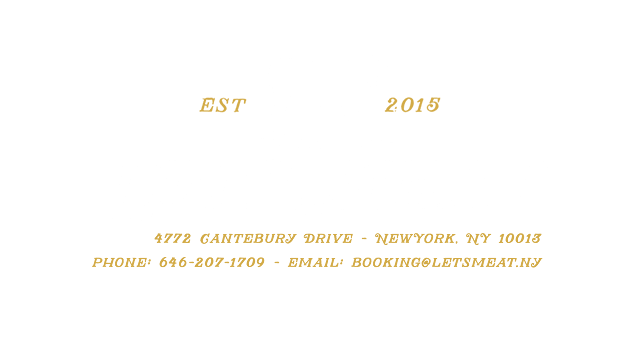 Block Reference #LPB3R8B2
Element Reference #LPB3R8B2E1
Opening Hours
| | |
| --- | --- |
| Monday - Thursday | 6:30 pm - 11:30 pm |
| Friday - Saturday | 6:30 pm - 2:00 am |
| Sunday | 11:00 am - 5:00 pm |
Element Reference #LPB3R8B2E2
Follow Us
You can follow Let's Meat on all major social platforms. News, contests and special offers are announced on these platforms.
Element Reference #LPB3R8B2E3
Block Reference #LPB3R9B1
Element Reference #LPB3R9B1E1